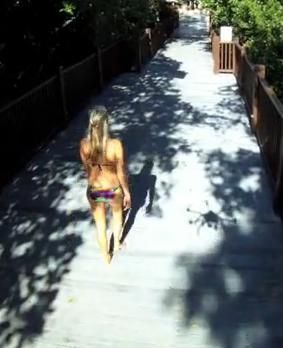 Imagine; You're sitting in your living room and you feel like
skimming along the beaches of the Maldives to check out a few babes
catching a few rays at the beach. Or, instead of spending $4000 to go on a cruise in a
Norwegian fjord
, you decide to remotely pilot a vehicle and fly above what's happening there at that moment. You pick up your controller, provide your account for appropriate billing, and launch a UAV from a local provider and begin your adventure. . .for oh, a 90 minute flight in widescreen 1080P. . .at home, in your underwear, drinking a beer. Of course there's no forgetting your time limit as your flight time duration flashes in the lower right. You get too feisty and annoying with the locals? You also get a warning that flashes in the lower right. Keep it up, and the UAV returns on its own to the lease center.

All this is well within reach, AND will be affordable, within the next six years.
Remotely piloted UAVs (Unmanned Aerial Vehicles) for the common man is coming.
Affordable, as in a complete system for less than $1000. Or more likely, a rentable system with a commercial-based infrastructure. This could possibly end gaming for a large segment of the gamer population who wants more reality in their couch potato experience. Or for those who just want to
experience 'reality'
without the need to go to the expense and danger of traveling themselves.
I have located the components now that would provide such a system, but as it stands, the cost is still well above $4000 and only locally and is limited to flight times of less than 30 minutes.
The possibility of >90 minute global flights will be provided by the convergence of several technologies and commercial systems that are here now, and that will only improve in the next two to four years.
-Micro-electronics
- High-power, low weight energy source. Something similar to lithium polymer (Li-Po) batteries. Most likely a technology utilizing some variant of Li
2
0 technology.
-High density CCD technology
-a 4G 802.16x variant
-neodymium motors with high coercivity
-and last, but far from least, dirt-cheap Chinese labor
I discovered several of these dirt cheap technologies are here now. For example, you can NOW have a high-res
720P 10gram DVR for less than $40
The lifting platform, as well as a GPS interface
are also now available
as I've linked to before.
Remember, you heard it here first from your friendly Psycho Rhino. . .