I've been maintaining for months now that while Rebellion owns Battlezone, they don't own
our
Battlezone. And I'm truly sorry for that; I was wrong.
I found an article on Kotaku this evening entitled "Welcome Back to the Battlezone", which is basically a love letter to the series; the big kicker was the link to a steam page about half-way down.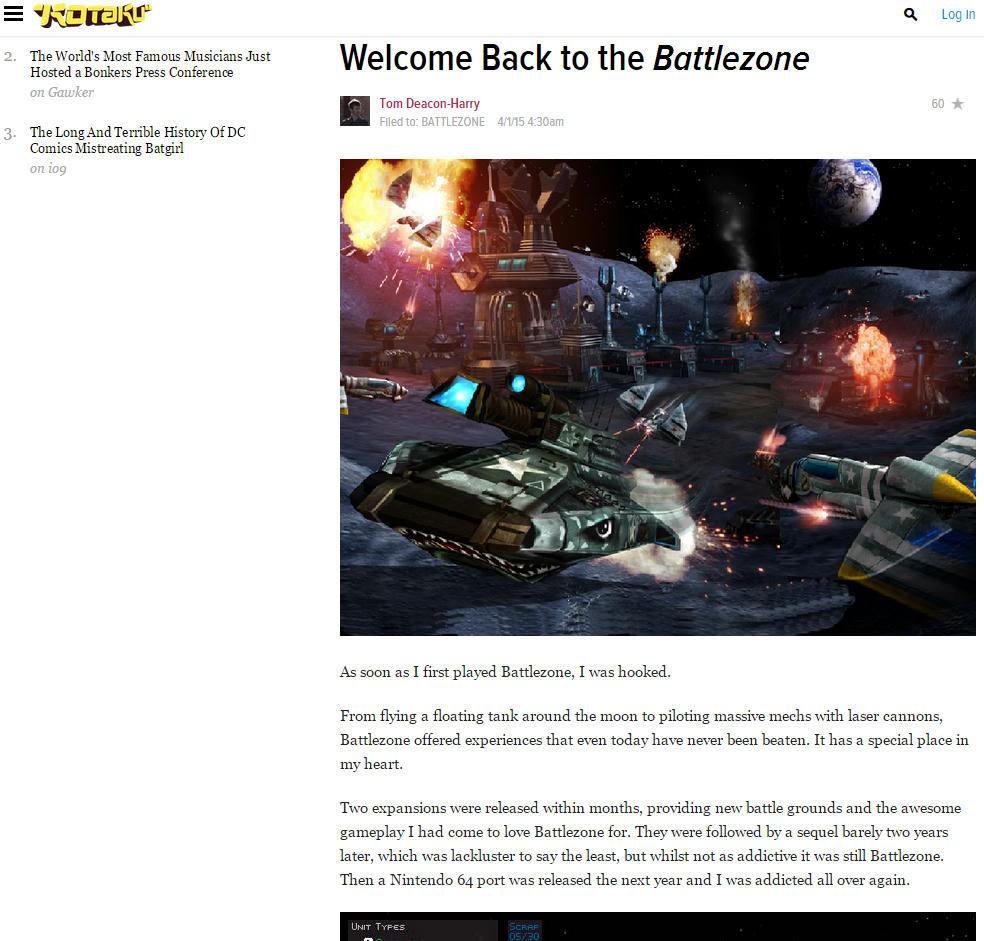 http://kotaku.com/welcome-back-to-battlezone-3459742156
The article reads as follows:
As soon as I first played Battlezone, I was hooked.

From flying a floating tank around the moon to piloting massive mechs with laser cannons, Battlezone offered experiences that even today have never been beaten. It has a special place in my heart.

Two expansions were released within months, providing new battle grounds and the awesome gameplay I had come to love Battlezone for. They were followed by a sequel barely two years later, which was lackluster to say the least, but whilst not as addictive it was still Battlezone. Then a Nintendo 64 port was released the next year and I was addicted all over again.

In 2014, when Atari Interactive went bankrupt, it was British company Rebellion Developments who purchased the rights to Battlezone. Rebellion, known for the Sniper Elite series, Alien vs Predator and 2000AD, kept quiet about it for a long time. All indications were that they had purchased the rights to the original Atari game for licensing.

Imagine my surprise when I start work this morning only to find that, front-and-centre on my Steam homepage, is the love of my gaming life.

Yes Ladies and Gentlemen, that is entirely correct. Rebellion has remastered and re-released the entire Battlezone series on Steam!

Readers who have been following the Battlezone games will know that they're notoriously difficult to leave - to the point that Ken Miller and Nathan Mates, two of the games' original developers, have been making patches for them almost constantly since their release. Those readers will also be aware that Miller and Mates have been quiet of late - and now they know why.

The Battlezone Complete Collection contains the original Battlezone, its expansions Battle Grounds and The Red Odyssey, the sequel Battlezone II and a brand new PC version of the otherwise Nintendo-exclusive Battlezone: Rise of the Black Dogs. Battlezone is updated to version 1.5.3 and Battlezone II to version 1.3.7; amongst the changes included in these patches are support for modern systems and HD resolutions, and improved textures. All five run on matchmaking servers operated by Rebellion, so there's no need to worry about that pesky Gamespy connection any more.

I know what I'll be doing for the rest of the week.

To contact the author of this post, write to tomdeaconharryATkotaku.com or find him on Twitter @Tom_Deacon-Harry.
Right above the link is the following screenshot...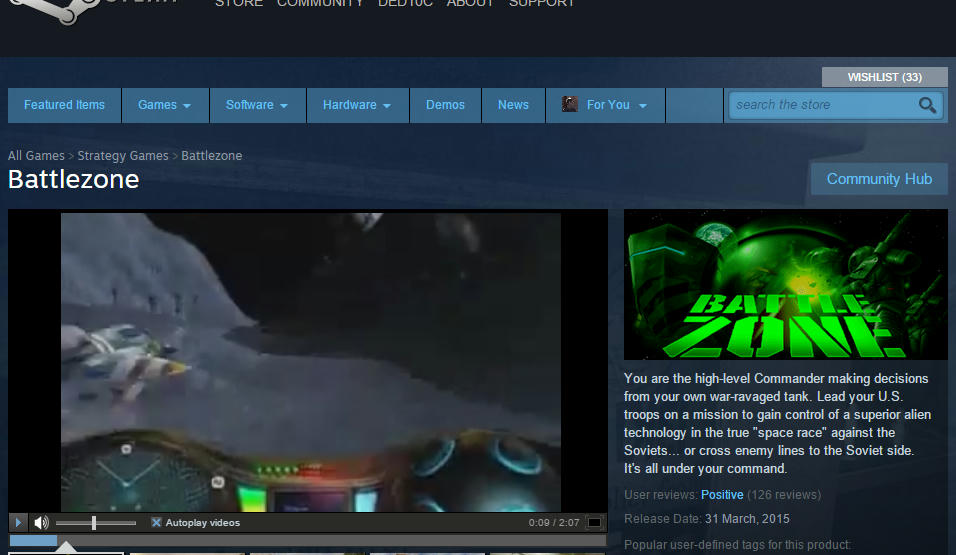 http://store.steampowered.com/app/5438
It looks like Rebellion
do
own Battlezone... and more than that, they're releasing it! The article seems to say there are also going to be re-releases of both expansion packs, Battlezone II
and
a PC version of Rise of the Black Dogs, but I couldn't find Steam pages for them. I'm guessing they'll be coming shortly.