I lost the thread of the Badger when BZU went down.
Here's much of the thread compiled into a single post.
I've edited and rearranged the posts to hopefully be
more linear. I've also added quite a bit of new content.

Offered for your consideration, a more realistic BZ universe,
where only a handful of technology is gleamed from a
few years of having and researching the metal. Enough
tech to allow the US, as well as the Soviets to consider
constructing a covert program to retrieve some of the same
miracle metal believed to be on the moon as well as Mars.
* * * * * * * * *
Here is a fairly comprehensive specification sheet. This, I believe, is about 85% complete.
Still missing some of the pilot's control and indicators, and the controls for the pressure
chamber and breathing gas, and of course, weapons and load out.
* * * * * * * * *
The Boeing/Grumman Mark II Badger
Contracts awarded: February 1962
(normal bidding process waived with Dwight D. Eisenhower executive order 10911-B due to national emergency protocols)
Design approval: June 1962
Specifications, Controls & Capacities
2 crew with full combat and observational capability: On station capability, 42 hours + 6 hour safety margin
1 crew in observation configuration: 84 hours + 8 hour safety margin
Rescue or personnel retrieval configuration: 8 men: 6-10 hours depending on pressure chamber cycles and personnel respiration levels.
(additionally, rescue protocol, will require full maintenance cleanup procedures and refit after rescue retrieval due to contaminates entering the living space.)

Crawl Speed and Distance
: Approximately 3 mph, distance equal to breathable air duration x speed
Static hover time
: N/A
(exceeds breathable air duration)
Forward flight
:
Moon; maximum forward velocity estimated to exceed escape velocity before MPS depletion
(see below)
. Not tested during brief trials. Uni-Mass max corrective lift of 3' 8" in .7 seconds limits max forward speed due to terrain undulation resulting in surface collision before Uni-Mass can correct
(see spec below)
. Procedure protocols require transit velocity to not exceed 150mph. Restriction removed during combat, limitation capability passed to pilot discretion. Range: Unlimited if on flat surface.
*
*
Not entirely accurate. Hysteresis with ground metals will eventually bring a Uni-Mass drive coasting above the surface to a stop. Estimated to take days.
Mars; maximum forward velocity approximately 480mph. Range: 110 miles on level terrain.
· Crew cabin volume: 678 cu ft
- Interior surface exterior hatch to the front windshield; 12'-6"
- Side to side interior @ widest; 7'-4"
- highest internal height; 8'-3"
· Height of Badger, legs fully lowered tower retracted: 15' 5", height in observation mode, top of structure: 30' 6", height of observation scopes (view height): 37' 2"
· Width: outermost thrusters: 24' 4", Badger hull @ armored visor: 13' 3"
· Length: 16' 9"
· Mass including fuel, air and ammo: ~23,000 earth lbs.
· O2 cylinders: 1.9 cu ft @ 4,400 psi x 10 + pressure chamber pressurization tank of 3.6 cu ft @ 3,200 psi
· Pressure tank cycles: 14 (moon), 17 (Mars)
· Atmosphere: 91% oxygen at 8.2 psi
· Co2 scrubber: 22 lb anhydrous Lithium hydroxide bank x 2
· Water: 22 gal. storage tank x 2
· Foodstuff: 2.2 cu ft, generally standard non-self-heating "MRE-like", approx. 75 meal capacity
· Internal Coolant: 76 lbs. ethylene glycol/water solution
· Thermal Control: one water-ice sublimator
-The following MPS has been superseded by two 40 gal. H20 tanks and a Bio-metal heating lattice for the Mark III-
· MPS (maneuver propulsion system) thrust: 305 lbf x 8
· MPS propellants: 5.2 cu/ft Aerozine 50 fuel tank (x 4)/ 3.7 cu/ft. nitrogen tetroxide oxidizer tank (x 4)
· MPS pressurant: four titanium 48 lb helium tanks at 3,800 psi
·
MPS specific impulse: 395 s
· MPS maximum delta-V: 24 ft/s, maximum height with UM; 4' 3"
· Uni-Mass: 10" sphere @ 4,800 lbf x 4 providing 3' 8" static hover, 0.7 seconds from power on to full height
· Thrust-to-weight ratio at liftoff with UM: 3.8 (lunar gravity) 2.7 (Mars)
· Batteries: two 24 volt, 296 ampere-hour silver-zinc batteries 48 lb each with additional Bio-Metal EC generator: 4,500 ampere-hour producing 9 grams inert waste residue/hr during hover/flight, 0.01-0.08 grams on station.
· Internal Power system: 24 V DC, 115 V 400 Hz AC
Main Control Panel -General system monitoring
· Master Alarm (Buzzer&Light)
· low and high O2 alarm B&L
· high Co2 alarm B&L
· low cabin pressure alarm B&L
· independent leg hydraulic failure alarm B&L (x4)
· Uni-Mass failure alarm B&L (x4)
· Bio-metal EC voltage failure alarm B&L
· pod over-tilt alarm B&L
· high torque resistance alarm on legs, (x4) B&L
· high torque resistance, pod rotation B&L
· high torque resistance, pod lower or raise B&L
· unrecognized EMF (radio, radar) if weapons console off B&L
· Alarm Quiet Toggle (AQT), all alarms
· Camera pod display, port and starboard. Camera articulation, zoom, rotate, raise and lower, swing horizontal, swing vertical, toggle independent light amplification (Mark 1 level tech)
Starboard Panel - Front
· Thruster control
· Thrust meter
· Thrust Indication - analog
· Uni-Mass indicator
Starboard Panel - Center
· Leg hydraulics override shutdown
· Thrust override shutdown
· Uni-Mass override shutdown
· BmEC emergency shutoff
· Leg articulation levers - independent
Starboard Panel - Rear
· Radio communications.
· EMF jamming
· Radar
Floor controls
-Flight and walking configuration:
· Computer/driver integrated joystick articulation of leg system along with thrust steering port and starboard foot control. Switch on stick for integrated retraction of legs upon transition to thrust and Uni-Mass hovering and flight.
-Combat configuration
· Pod pitch and rotation.
· Weapons Fire trigger
· Mortar toggle
· Dual fire main guns and mortar fire toggle
Weapons
· Main autocannon (2), Watervliet Arsenal Recoilless ~2 RPS 20mm 2,600 fps depleted uranium kinetic rounds. Carriage and mechanicals -Rock Island Arsenal
(both manufacturers not contracted, units procured & adapted by US Navy and Grumman specialists)
Capacity-340 round bank (x2). Both cannons capable of 4 degree inward yaw providing convergence targeting from 120ft to parallel fire.
· Mortars (2) - Modified M2 60mm smooth bore. Effective range 370ft-19,000ft (Moon), 310ft-14,000ft (Mars). External magazine, capacity; 18 (x2)
The following five shots are very early sketches. It was quickly discovered, the main cannons had to be lowered to reduce the moment on the pod. The cannons were lowered by approximately 22 inches, bringing them to within 26 inches of the horizontal CG point.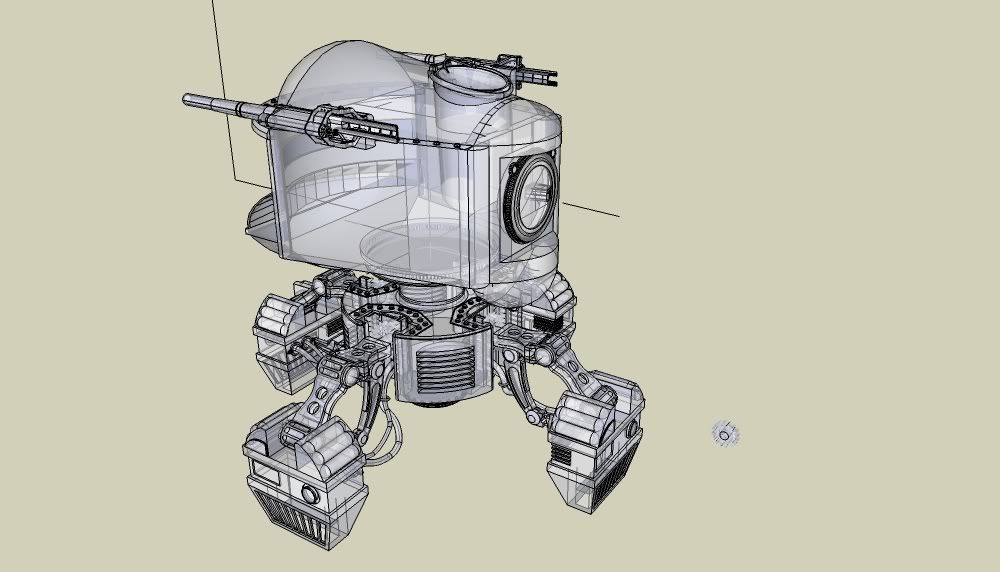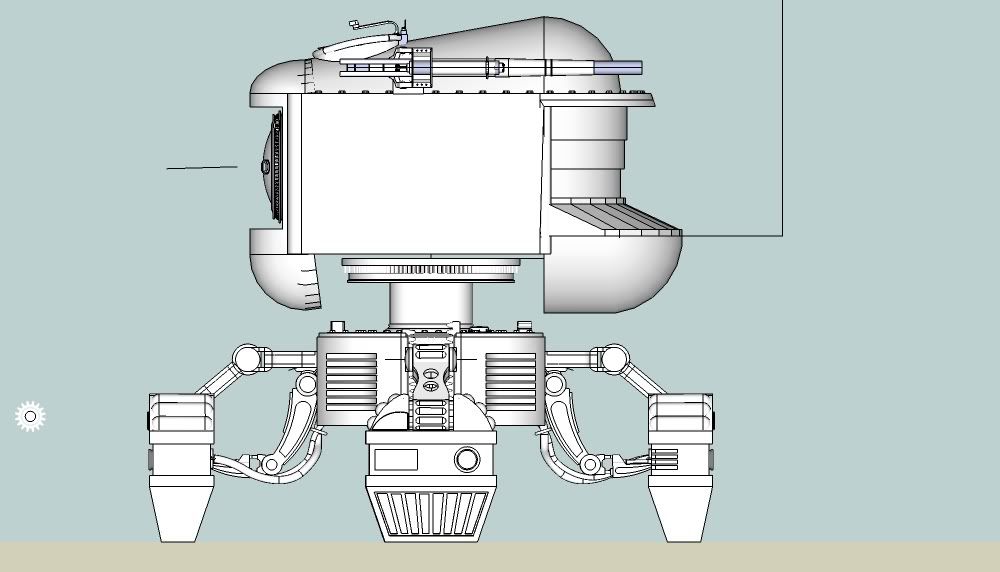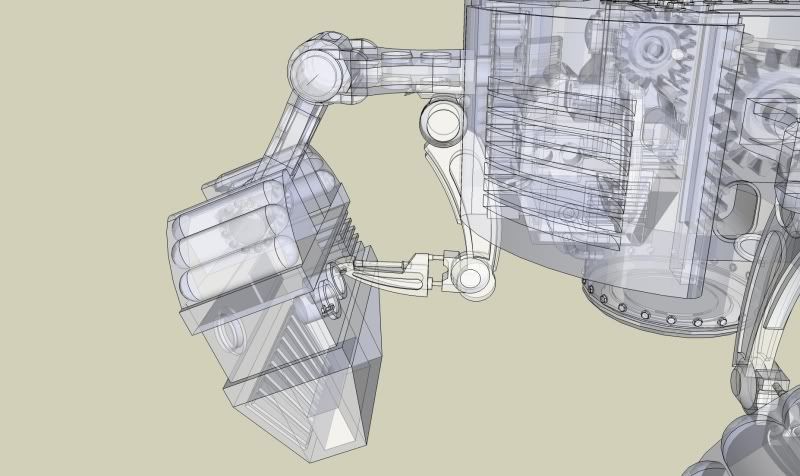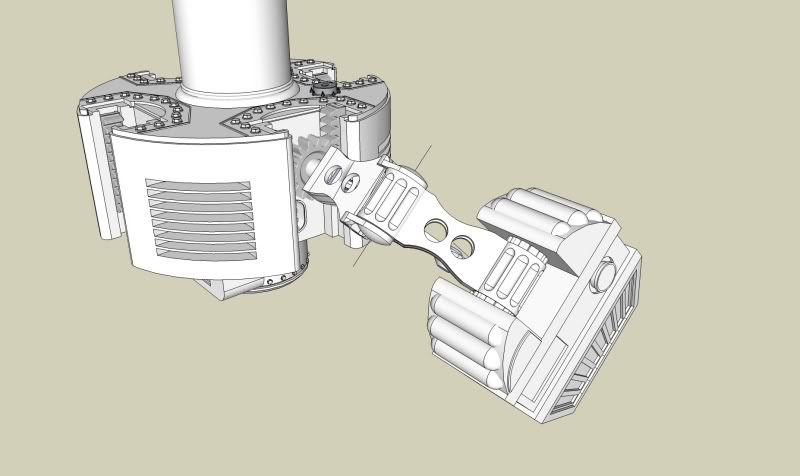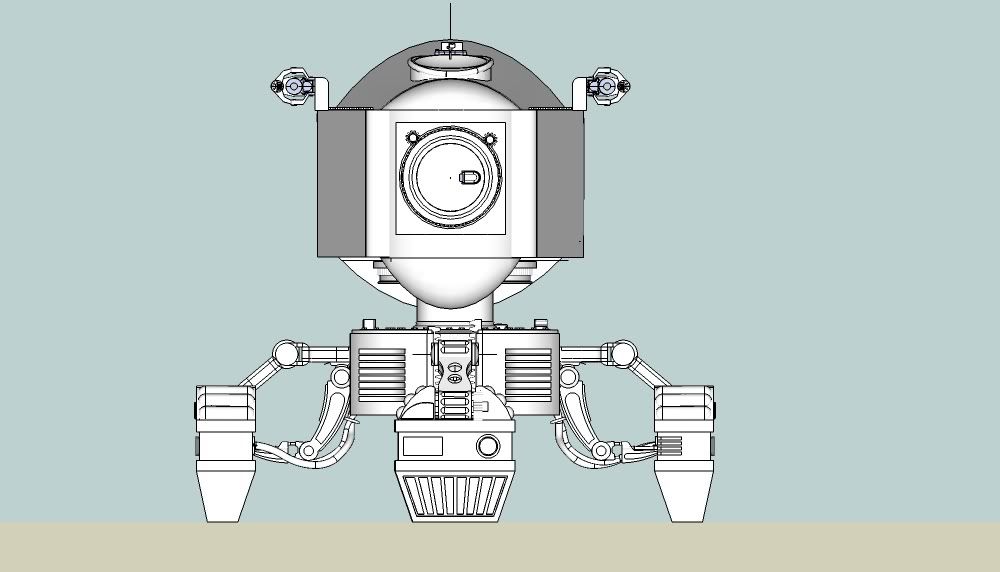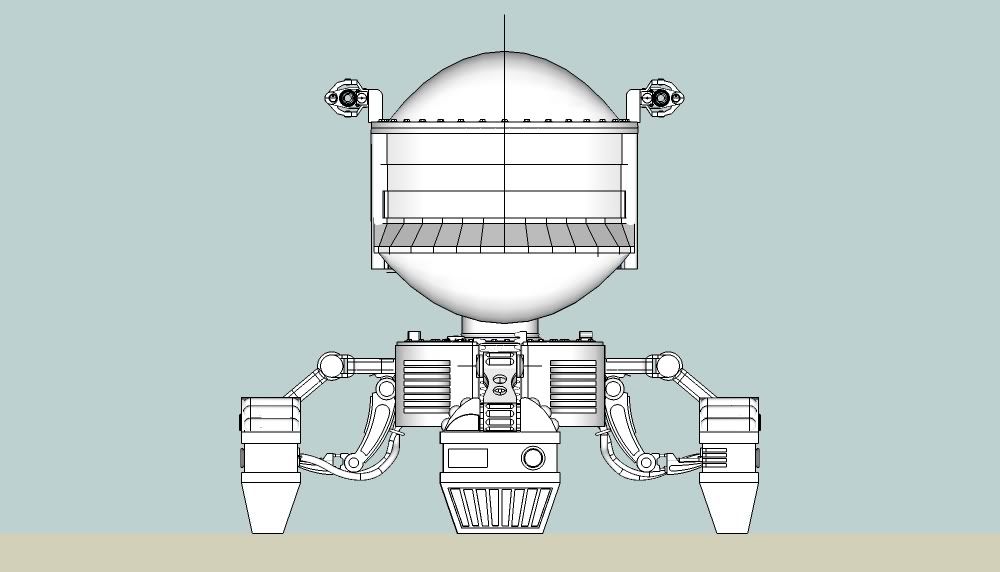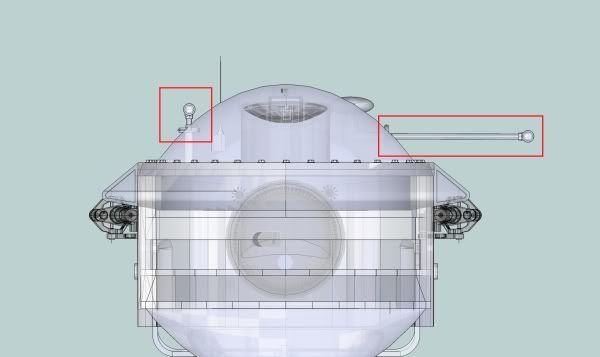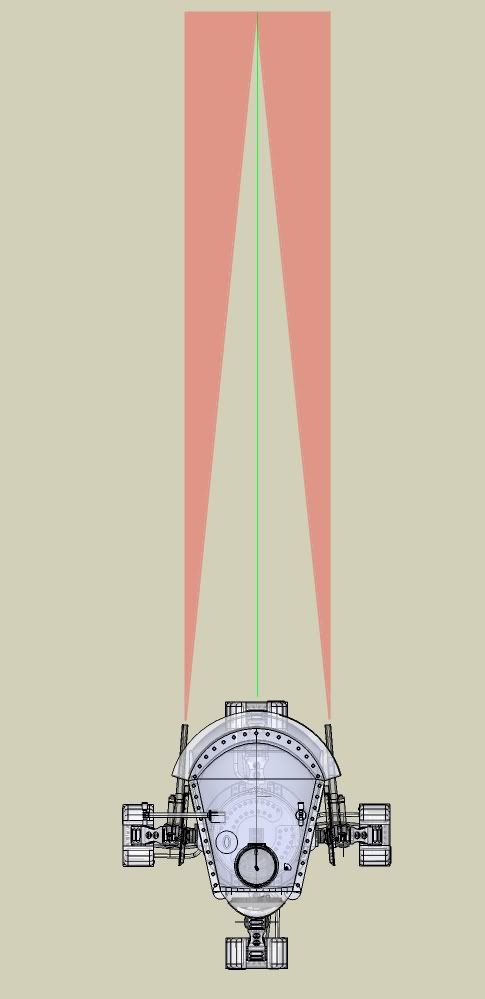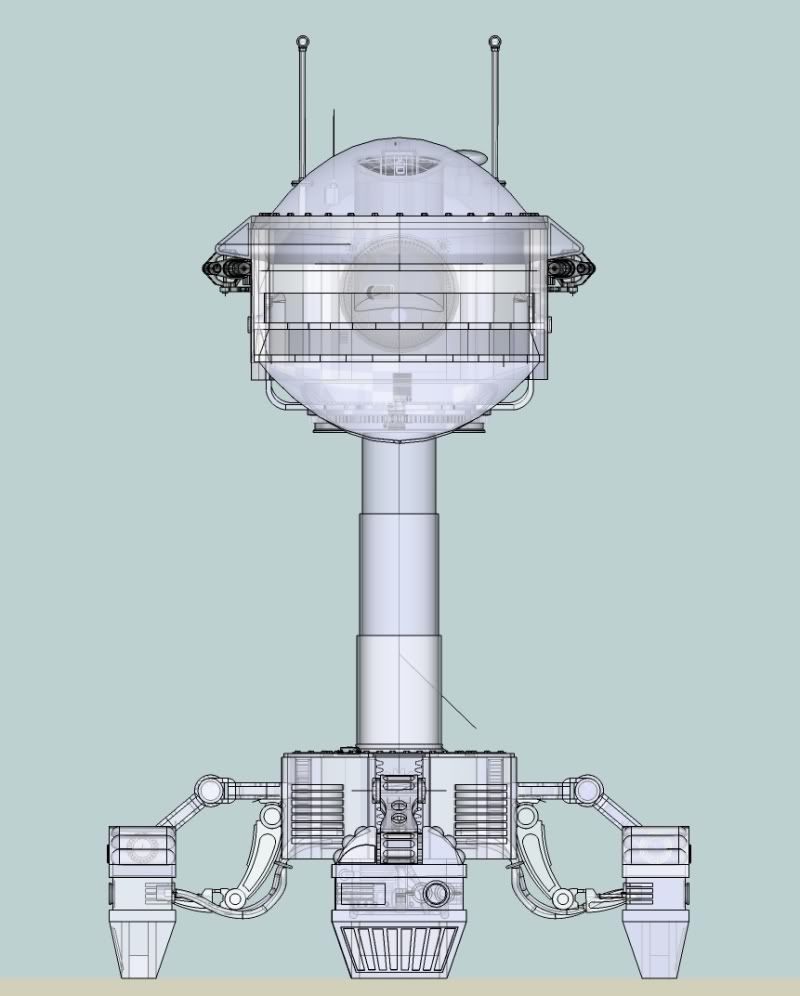 Here's the scale of mine. It's roughly 18 feet tall. The blocks are 1'x1'x1' separated by a foot.
The following is a brief and futile conjecture of attempting to model after the Pandemic Badger. . .
Once again, it's extremely hard to determine the scale and size of any of the BZ ships since everything is totally out of whack.
But going purely off the Badger's canopy,
(those in the BZ Badger screenshot are what I imagine as one foot increments)
I'm guessing it's at
least
ten feet high at a minimum. For that size let's assume the pilot sitting relatively deep within the pod and the canopy is around 30" or so high, and as you can see, extruding out away from the shell. Basically a very, very easy target for a craft sitting still during a fight for no visibility advantage.
However, the Badger could be
much
larger, IF the pilot sits
inside
the canopy, sort of like a crane operator or farming combine. If that were the case, it could easily be as big as mine, or bigger. But that introduces an even easier target for a craft that sits still all the while it fights.
Also consider, the support post/tube appears to be hydraulic or pneumatic and NOT a scissor device. I say that because if it
were
a scissor type lifting device, it would not need the base OR the main pod to recess into for movement. If it is a tube, I would assume it to be a telescoping tube, similar to a periscope, because if it wasn't it would recede into the pilot pod, taking up all the space. The base appears to be a mighty tight fit to receive the post segments.
But once again, trying to reverse engineer a low poly model thrown together for a game for 'real world' functionality is pure silliness.

Mine will have several aspects above and beyond the game's Badger. I'm also trying to 'make it real', so I'm somewhat stuck with some hard and fast dimensions.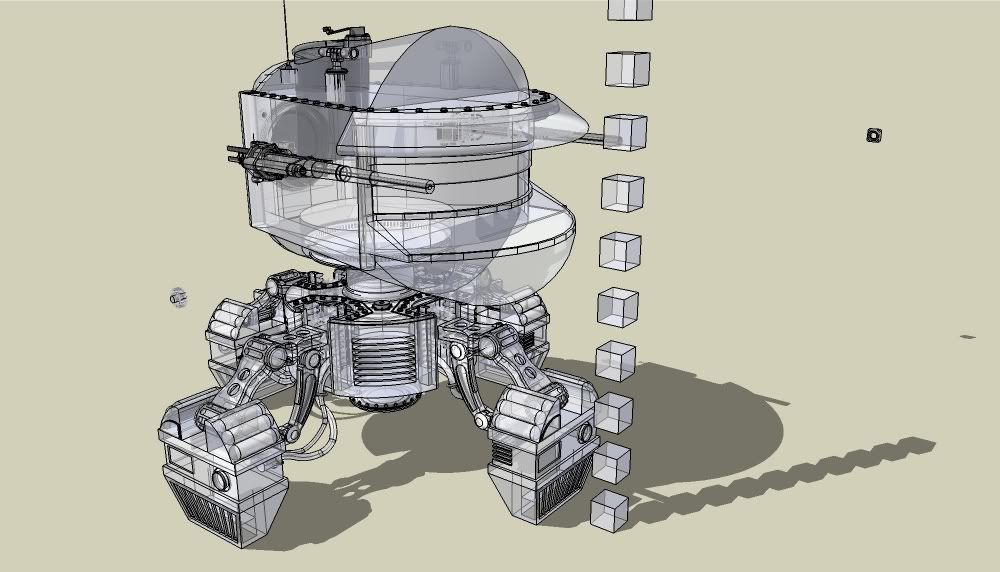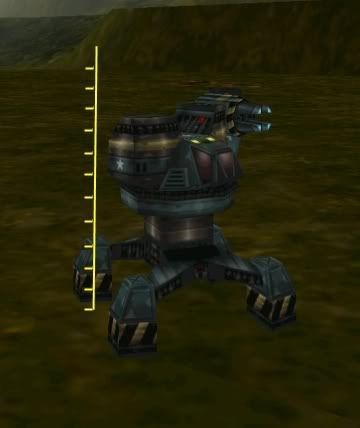 The approximate weight distribution.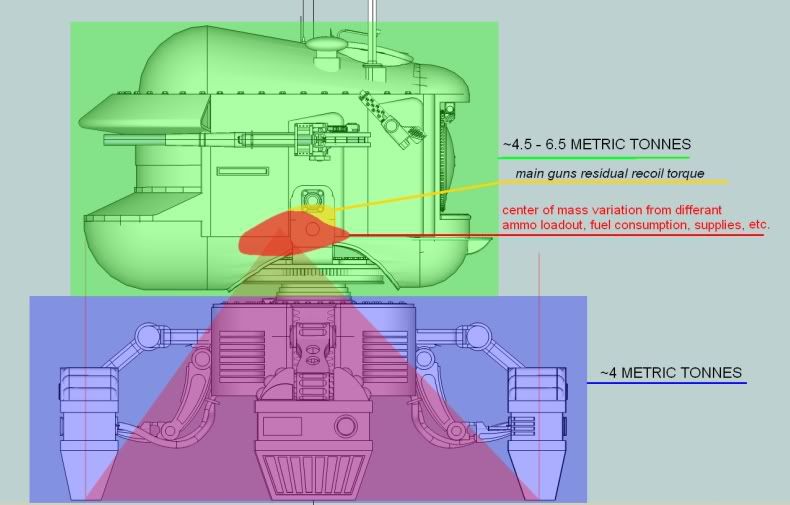 Here's a couple more X-ray screenshots. You can see I've painted up about 40% of the lower assembly. I've added the pilot's cockpit and control center. As I said earlier, my Badger is as much a combat craft as it is an observation platform. . .so I'm making it capable of sustaining a 2 man crew for 2 days with a full ammo load out, or up to a week with a very light ammo supply.
The second one I've set the POV 6 feet off the ground, 8 feet away, to give you a feel of the size and scale.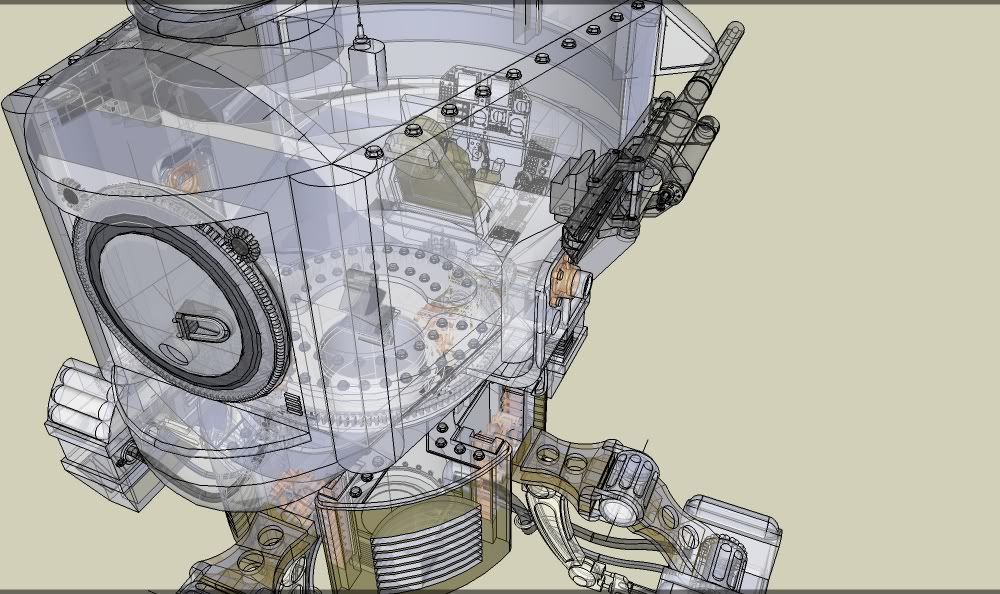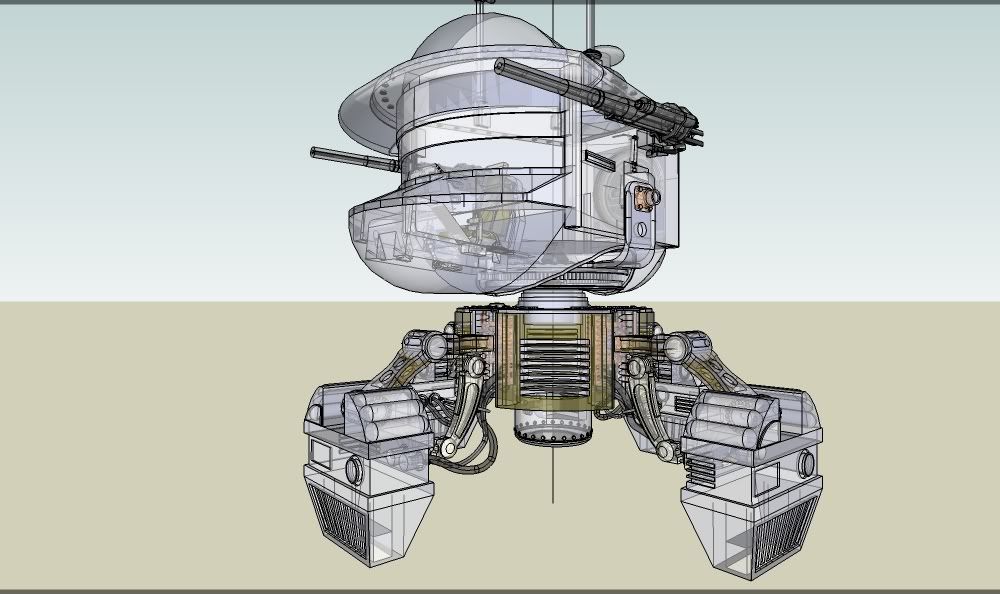 * * * * * * * * *
Here a few simple renders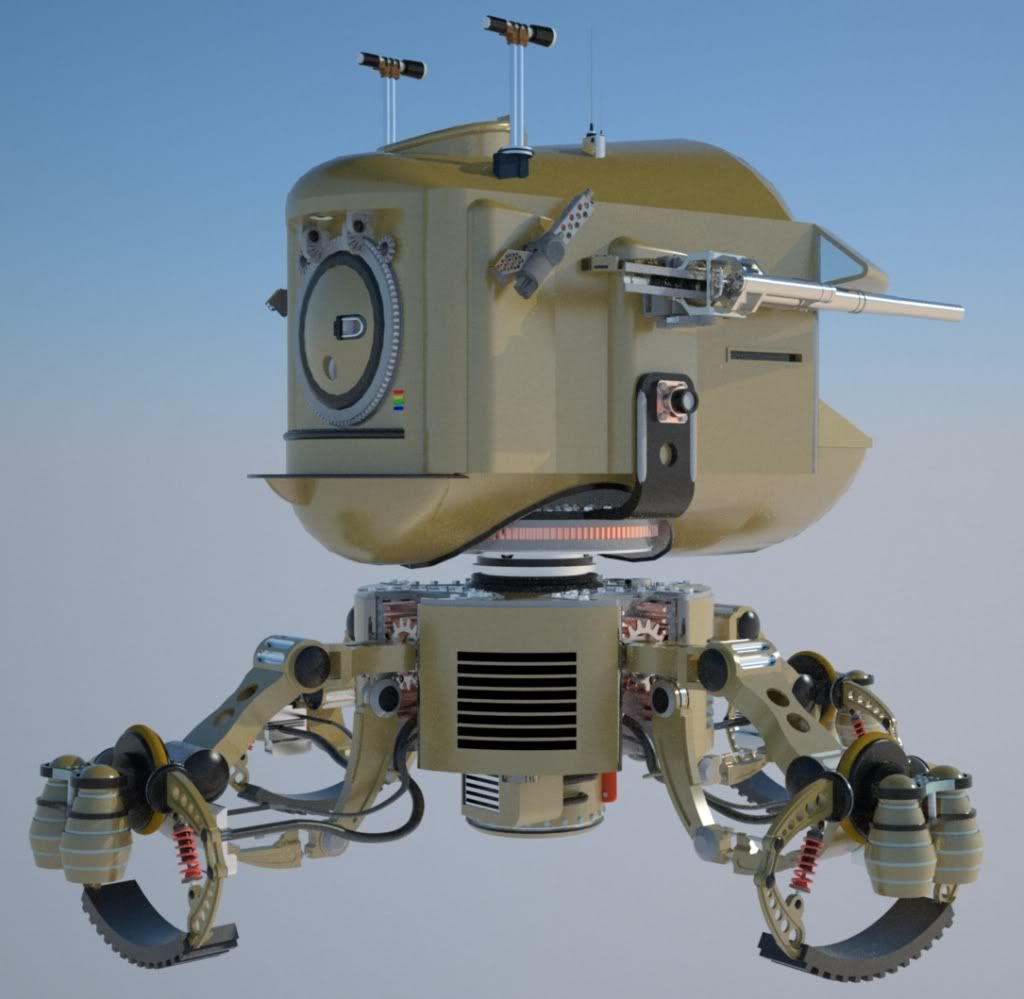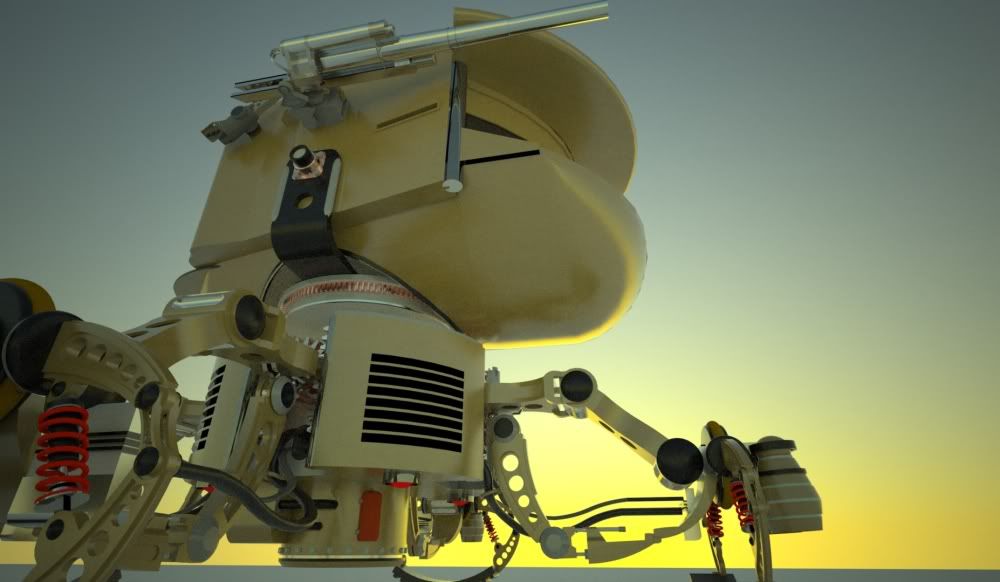 Here's a rough and raw 15 minute render to check out lighting, reflectivity, colors and textures. I will add more hydraulics and mechanical systems. I have the pressure chamber lit and have the hatch 30 degrees open. I also have individual linkages, controls and buttons on the control panels.
A model this complex takes several hours to get even close to minimal graininess.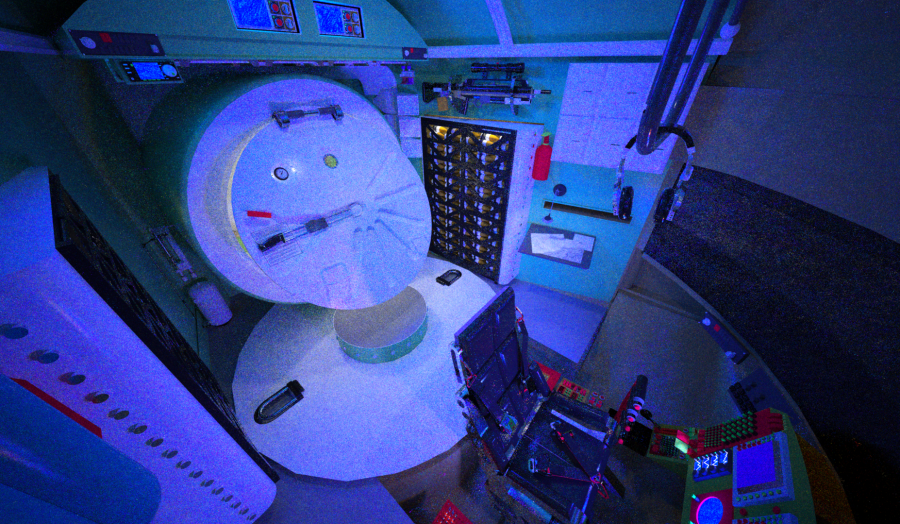 Here's a few more internal shots. Don't be visually tricked by the wide angle shots of 100 degrees or more. It makes the interior appear much larger than what it is. Refer to the specification data if you are disoriented. Please excuse the graininess of the shots, in 'low-light', rendering requires extra time to wash out fireflies, fill in dark corners and add overall contrast. All these shots have very brief render times of 2-3 hours. With the lighting I am using now, these need a full day to burn to have a nice highly contrasted, clean image. . .which I WILL do once done completely with the interior.

Someone paying close attention to the second shot may have noticed I have made a fairly substantial modification to the ammo capacity. After calculating weight and interior space, I discovered the Badger was too heavily loaded with literally tons of projectile mass, being that the ammo is depleted uranium with a titanium puncture cap. I reduced the shell size, which maintained the count for half the volume. A 2,600 fps 20mm projectile imparts more than enough kinetic transfer to damage any hull that could be reasonably manufactured from pre-manufactured materials and transported to the Moon's surface.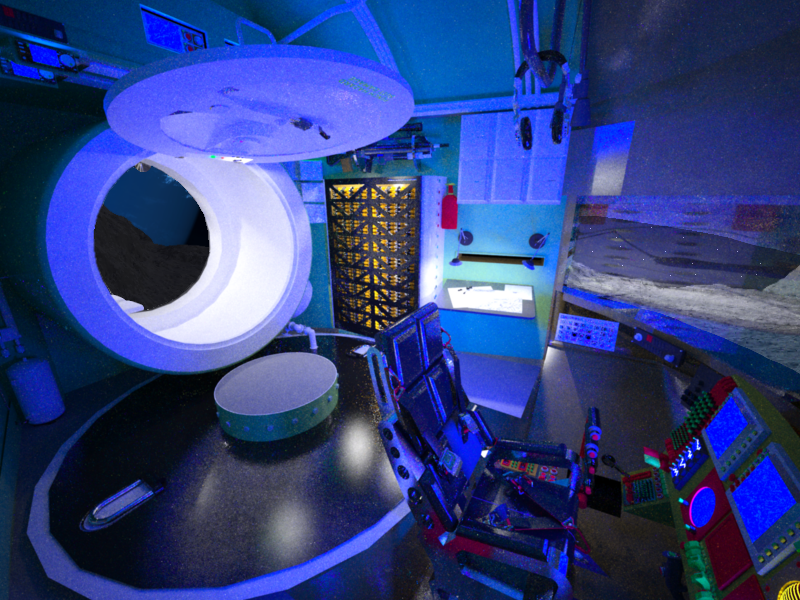 - - - - - - - -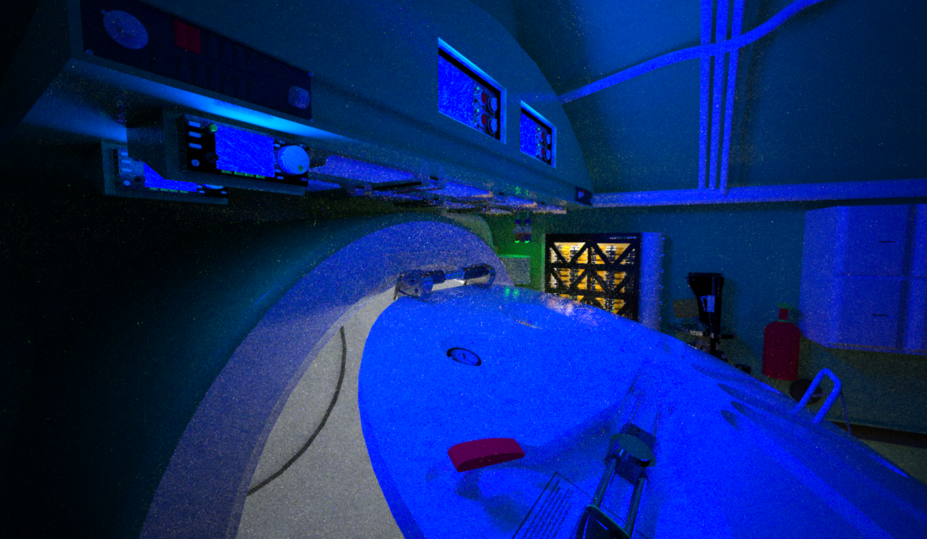 - - - - - - - -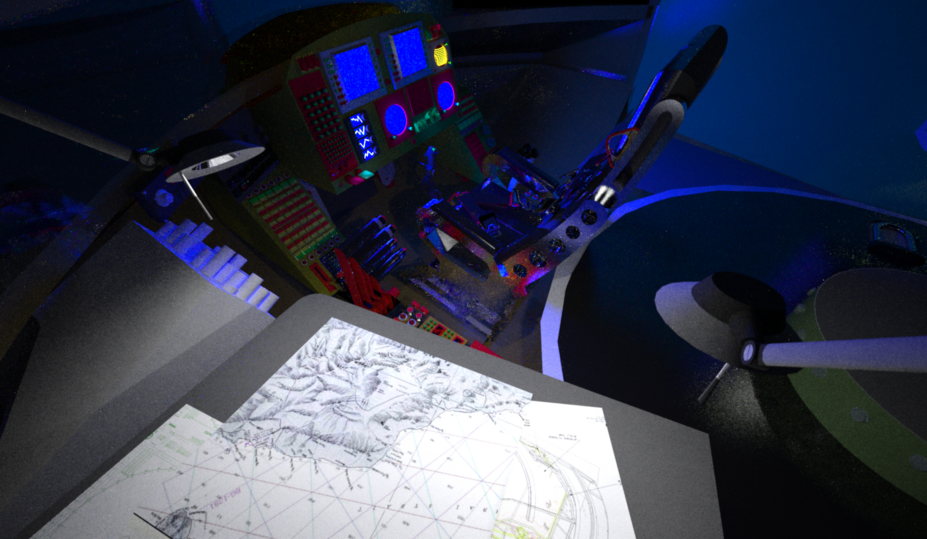 Two Badgers are standing watch about 15 klicks south a large scrap field on a small ridge at its west flank in the Daedalia Plain on December 12th, 1966.
Three Soviet Grendels appear about one klick out and are are approaching fast.
One of the Badgers is caught in observation mode.
A lone Badger watches over a vast crater field.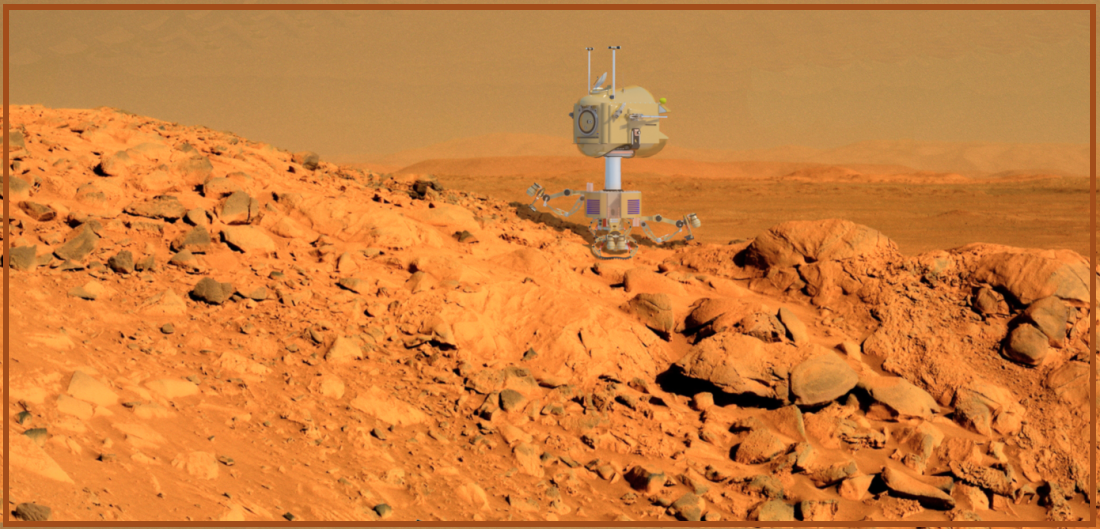 Early morning transit to a remote scrap field.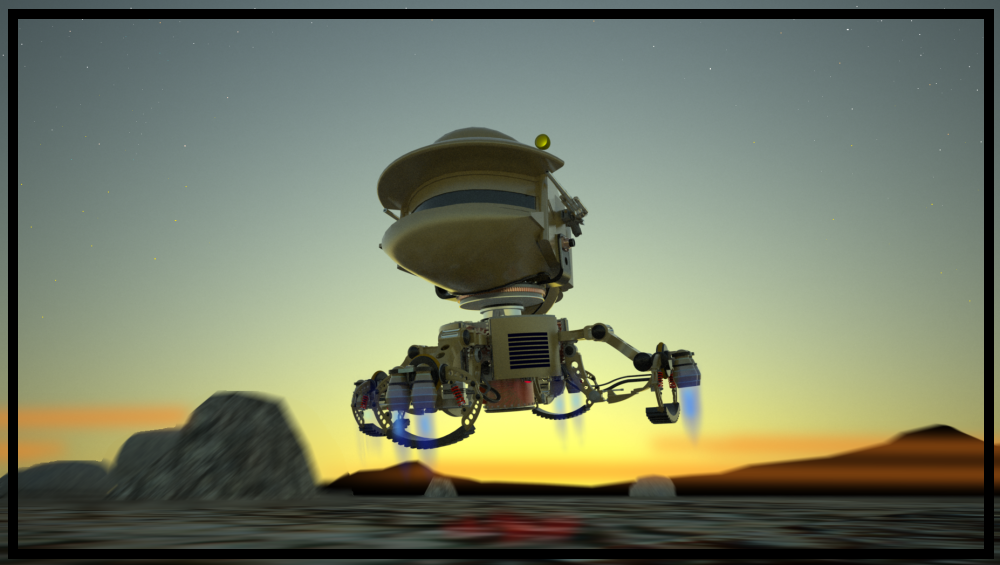 Earth Rises in the background as a fellow Mark II Turret scopes a Badger in full thrust transit configuration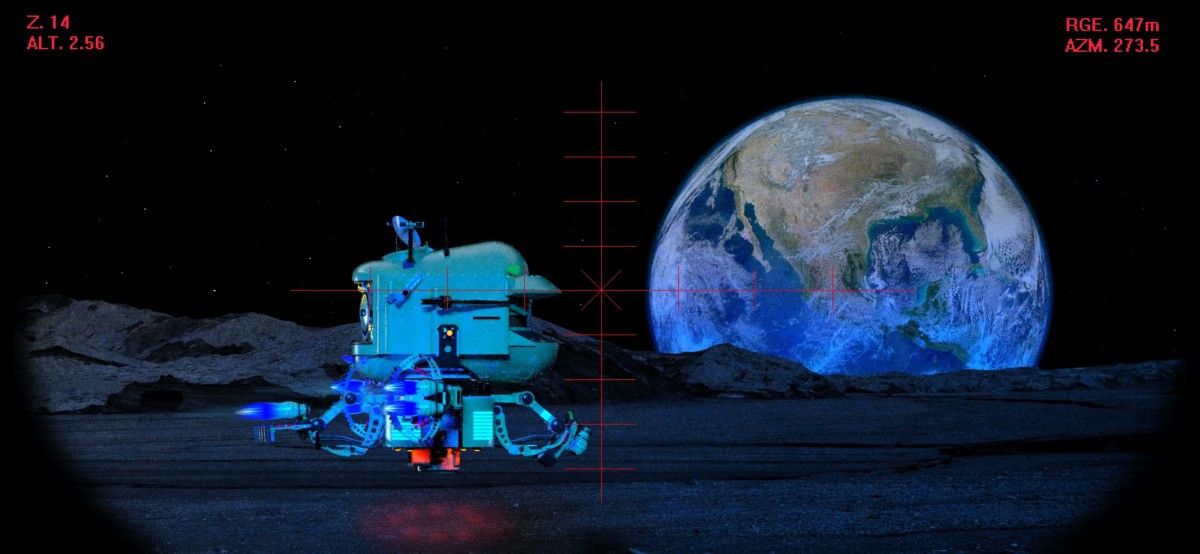 Here is a couple or so more hours of populating the interior, with much more render time;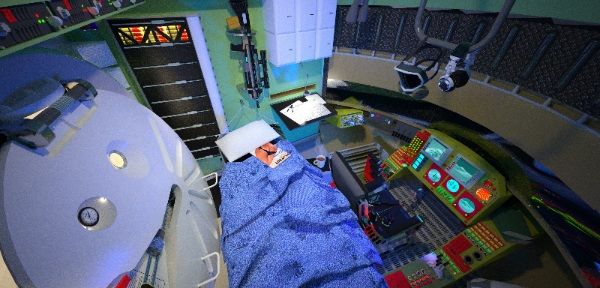 >Full 3700x1800 Render<
A few may be curious of the red glow under the ships.
Here is also a long lost post explaining. . .
We are fortunate we found pieces of "scrap" that was more exotic than the incredible 'average' stuff first found in the couple of scrap fields on earth. Several extremely rare pieces of bio-metal with large clusters of integration-instruction relay nanobot hub-switches, holding pieces of technological revelation, were found months later.

Most often the nanobots found 'embedded' are no more than simple RAM-like particle-formations, consisting of a nanobot filament attached to a few element molecules, generally homogeneous throughout the 'soup' of bio-metal, and have very basic, virtually useless information. Nothing much beyond 3D location, orientation, molecular van der Waals strength and geometric lattice structure to neighboring 'cells' data.

Finding large BB-size clusters, allowed researchers to reverse-engineer very complex technology. One of the achievements is an incredibly efficient, uni-mass repulsion field technology. Because the lack of complete information, or lack of research, the technology is not 100%. Exactly the case with the uni-mass pulse. It works, but is limited and "dirty" in regard to combat utilization.

Limited in that the mass-pulse is 'static', and cannot currently be modulated. Static is a little misleading. The pulse is a terahertz transmission that can only be held at a steady frequency. Any attempts to "throttle" or vary the transmission for ship altitude adjustment, leads to an instant 'field' collapse. This is why secondary propulsion, parallel to God's G is necessary along with Uni-Mass lift. The lift is incredibly efficient, the 'exhaust waste' is nothing more than inert powder on the bio-metal plates that generate the lift. The Uni-Mass generator can maintain the lift of a Badger, for example, for weeks with little more than a few grams of converted Bio-metal to an inert waste product. The field is very similar to diamagnetism in its properties.

'Combat dirty' in that the field has a magnetic hysteresis resonance with photons in the upper infrared and lower visible frequencies. . .making the transmitters 'glow' red in darker environments exciting incident local particles, thus making all vehicles using the technology easily spotted without the use of a skirt or shroud. This very slight resonance heating and visual signature of the local environment also limits vehicles to brief hovering times over liquefied, lighter elements, such as hydrogen and helium I. Attempting to transit over Helium II can be catastrophic if a tank were to suddenly splash into a deep HII pond, causing the Uni-Mass field to collapse from the instantaneous spike in the thermal conductivity, and eliminates any attempts at restarts. In addendum 2a-1.7 to the NSDF Field Briefing Guide, recommends that battle units using the uni-pulse utilize non uni-mass vehicles for scouting on planets where environments are subject to extremely low temperatures (-255° C), such as the night side of Europa where strategically possible. Non Uni-Mass vehicles are of course limited to ground contact travel and are greatly handicapped in regard to speed and distance.

* * * * * * * * *
Moved from another thread:
Both the US and the Soviets discovered the first hints a modulated broadcast in the terahertz range could cause biometal to 'respond' in various ways, more or less, at the same time.
My cc collection is very vague on Soviet development. However, since the US observed the Soviets using what we call the 'Uni-Pulse' or 'Mass-Pulse' on the Moon in '62, the NSA recognized the Soviets must have also discovered the ability to morph the metal to almost any desired configuration, about the same time period of late '58 thru '61. The detailed Soviet bio-metal development history is out there somewhere. It would be glorious to have it.
Asset recovery from deconstruction of captured equipment depended on the varying complexity of the object or equipment. To an observer able to get a glimpse inside the manipulation or morph chamber, the bio-metal being manipulated by a modulated broadcast, appears to change from a dull brushed metal when it is not moving or morphing and not under a specific instruction in that area, then to a highly reflective mercury sheen as it forms and morphs. The terahertz vibration of the highly active and morphing metal gives a dancing iridescent green reflection when seen at specific shallow angles in bright light. Some of the naval officers that observed the metal's morphing, and who also had served aboard naval ships at sea, remarked it reminded them of the
'Green Flash'
they had experienced at sunset. The dull brush-metal appearance dances and intertwines with the mirror finish as the instruction set calculates areas of the metal to solidity in places to serve as a support structure for areas requiring precision, and still other areas where the mass of the metal must cantilever or otherwise consider gravity as it forms.
Take, for illustration, an unlikely object to be made from the metal. . . a digging spade. There is no need to know a whole lot about a proper deconstruction sequence, because the spade has little to no embedded non-biometal technology to recover or damage from quick movement of a quite heavy substance pulling and torquing at different aspects of sensitive hardware, or the risks of shorting electronics, etc., to salvage. For the simple device as the spade, a harsh 'de-codify ' command will suffice turning the spade into a blob. Not an issue.
In contrast, it was almost useless to attempt to "recycle" workable and complex soviet equipment with integrated bio-metal, since the sequential breakdown broadcast was not known for 95% of captured equipment. Occasionally complex equipment would be recovered from a brute-force de-codify command, however most times the Soviet equipment integrated into bio-metal technology was junk afterwards.